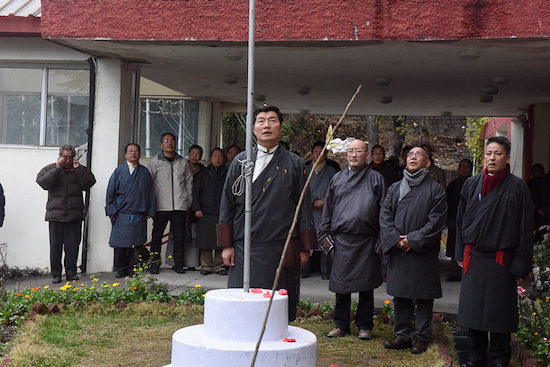 DHARAMSHALA: Tibetan political leader Sikyong Dr Lobsang Sangay today congratulated India on its 68th Republic Day anniversary. The brief ceremony to celebrate the occasion was held at the Kashag secretariat, attended by Kalons, Secretaries and senior officials of the Central Tibetan Administration.
Hoisting the Indian national flag to the tune of the Indian national anthem, Sikyong greeted the people of India and said "India is a role model for the world in ensuring that economic development and democratic rights of the people are maintained on an equal footing."
"India is also a melting pot of diverse religious beliefs, ethnicity and ideologies. This unique feat is a result of India's deep rooted faith in its democratic values for which it has garnered worldwide respect and admiration," he added.
Sikyong further expressed gratitude to the people and government of India and said that he is hopeful that the joint development of India's economic and democratic rights will continue even further in times to come.
Following the brief ceremony at Kashag, Sikyong took part in the official ceremony organised by the local Indian administration of Kangra district at the Zilla Parishad hall in lower Dharamshala.
Sikyong was accompanied by Kalon Karma Yeshi and Kalon Phagpa Tsering with Deputy Speaker of Tibetan Parliament Acharya Yeshi Phuntsok at the function. The chief guest at the function was Shri Brij Bihari Lal Butail, Speaker of the Himachal Pradesh Legislative Assembly. The function concluded with cultural performances.