Vermont Tibetan Community Center (VTCC)
A Vision to Ensure the Vitality and Preservation of Tibetan Heritage in Vermont
VTCC Committee
In July of 2013, a voluntary committee was established consisting of seven (7) Association members. The Community Center Committee was established to research Community Center options, study the overall project feasibility, draft proposed project plan options, and to report back to the larger TAV community its findings.
Community Center Committee Members
Co-Chair  Mr. Sonam Chophel
Co-Chair  Mr. Jim Kelley
Secretary  Mr. Tseten T. Anak
Treasurer   Mr. Chris Cummings
Member  Mr. Dakpa G. Tangtsang
Member  Mr. Tenzin Tsultrim
 Member   Mr. Tenzin Chophel
Working cohesively as a team, each committee member brings their own expertise and interest in establishing a community center. Using the collective knowledge of Committee members and through consultation with external field experts, the committee stives to formulate viable and sustainable Community Center options for the Tibetan community in Vermont.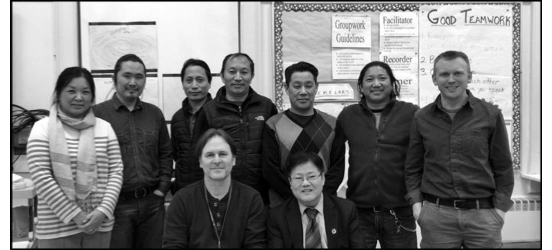 Photo: 11th TAV Board Members and Community Center Committee
The Committee's task is to envision and design a Community Center to meet the needs of the local Tibetan community and to create a viable action plan(s) that ensures project success and Center sustainability for future generations to come.
Community Center Mission Statement 
To Preserve and promote Tibetan culture, heritage, and religion through:
  a school to provide cultural education (language, dance, history, etc.) Tibetan children;
  educating the public about unique Tibetan culture through festivals, teachings, and other events;
  providing a meeting place for Tibetan community to conduct prayers, celebrate holidays and special events, and have teachings.
Since inception, the Community Center Committee has conveined numerous times and has met a number of important goals and objectives.
Project Design – Phased Approach
Based on the current resources, the Committee has determined that the most feasible and sensible approach to achieving a Community Center would be to design the project plan based on a phased approach consisting of three (3) phases. The three (3) project phases include the following phases:
Phase I – Purchasing Land
Phase II – Construction of Outbuildings (seasonal shelter, stupa, etc…)
Phase III – Construction of Community Center
This approach is fiscally conservative in that project elements are not paid for until funds are raised through fundraising efforts by community members. A multi-year approach consisting of three (3) phases is most appropriate in that it maximizes benefits to the organization early and builds project momentum as funds are raised and objectives met. The Committee recognizes that there are immediate benefits to Association-owned land and the purchase of land (Phase I) is perhaps the most achievable element of the project.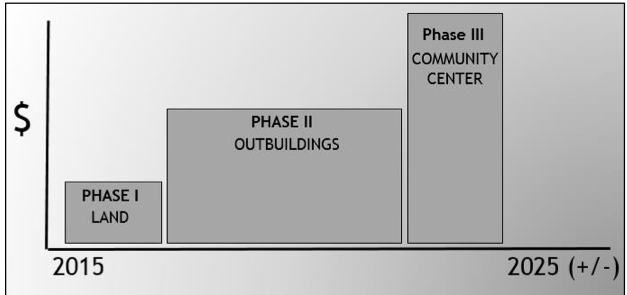 Three (3) Phased Project Timeline with Relative Costs
Community Center Design
In August of 2014, Committee members began meeting with Ms. Bren Alvarez, a local professional Architect, who has most generously volunteered her services to the Association. The Committee is in its final stages of drafting a Community Center design to present to the Association members for feedback.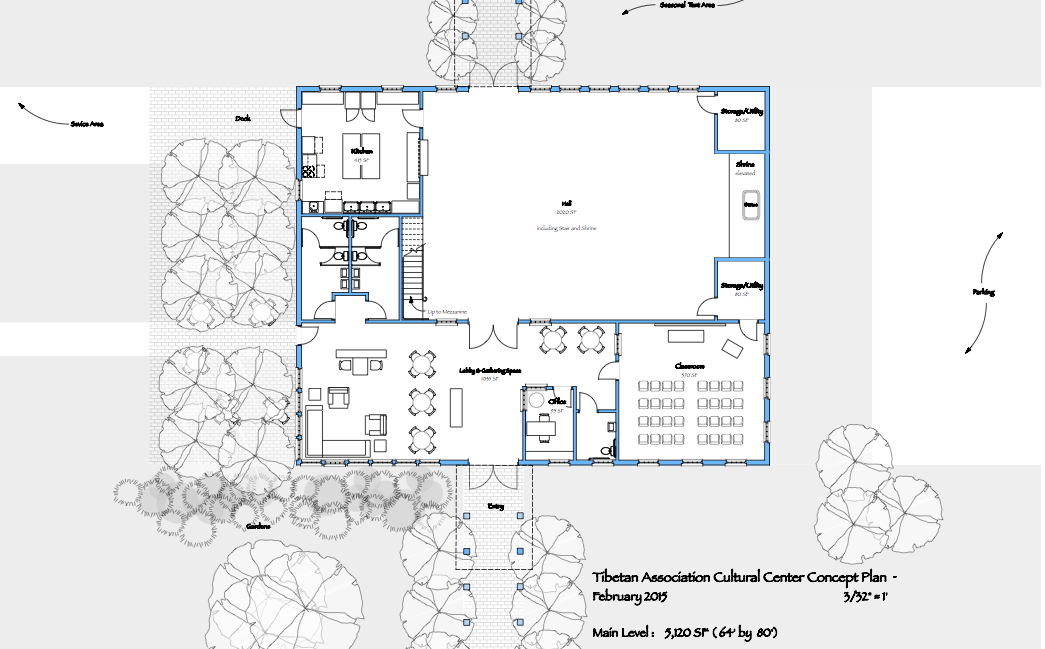 Sustainability
The issue of Community Center future sustainability is at the forefront of discussions relating to this project. Indeed, the most important aspect of the Community Center is that it continues to serve and thrive within the local community. Committee members are in the process of brainstorming potential partnerships with local individuals and organizations to further ensure project and Community Center success. Possible sources of revenue (like renting out the facility for weddings, meditation/yoga classes, etc…) are constantly being discussed and are central to the design of the purposed community center.
Utilizing External Resources
Though the Committee is made up of competent individuals, we understand the limitations to our knowledge and experience regarding the construction of such a large project. The Committee has sought assistance from external professionals to offer their expertise and guidance to further ensure project success. The Committee has and will seek assistance from professionals such as Architects, Fundraisers, Project Managers, Realtors, and other professionals in the Burlington area.
Our Work Continues
This report is for informational purposes meant to briefly summarize the work that we have accomplished as a Committee thus far.